Snett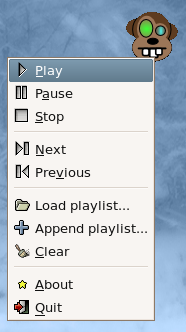 Snett is a simple XMMS2 client that's heavily inspired by strange-quark.
It's a funky icon with a context menu that offers playback control and access to playlists in the XMMS2 media library. The latest release should always work with the latest XMMS2 release - if it does not, please let me know.
Download
The latest release is: 0.0.2
Installation
Run rake install to install snett.
Development
If you're running XMMS2 from the development GIT repository, the latest snett release will probably not work.
In that case, please get the latest development code of snett from the git repository:
git clone git://code-monkey.de/snett